Prices shown in USD | All items shipped from PA, USA
DAA Bullets-Out Magnetic Pouch
DAA Bullets-Out Magnetic Pouch
Reviews:
(Current Reviews:

5

)
Building on the success of the Magnetic Single Stack Pouch, we are pleased to offer the same configuration in two new models, a 2011 wide body and a CZ/TAN double-stack magazine size.
(Note that the wider CZ TS mags should select the 2011 model!)
Two 20 mm-round magnets hold the magazine firmly inside the pouch track, allowing for secure retention and yet enabling a smooth and effective magazine release. The base on the pouch is the same as used in the Racer line, providing for two height positions and a step rotation adjustment. The thin steel plate at the back of the belt-hanger minimizes separation between the inner and outer belt. Perfect for these pouches, which are often mounted close together on the outer shooting belt. This pouch configuration is ideal when wanting to mount pouches close together and allow easy access to multiple magazines without having to reach too far back.
Available in Black only.
Note: Under USPSA rules Magnetic pouches are not legal for use in Single Stack and Production Divisions.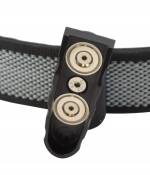 JGOcampo
Date Added: Monday 31 December, 2018
Great product at a very reasonable price. Quality is first rate. Easy to adjust. I love the minimalist but very functional design.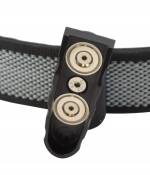 Conny
Date Added: Saturday 04 August, 2018
In der Praxis die besten Maghalter die ich bislang hatte. Perfekt und schnell!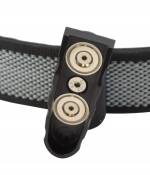 Dave W
Date Added: Saturday 30 December, 2017
Awesome product. Use 2 per belt for stripper mag and first mag loaded.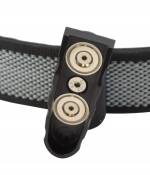 Sergei Petrovich Kostyurin
Date Added: Monday 06 March, 2017
Лучшее решение на данный момент! Удобно, низкопрофильно, плотная посадка всех паучеров, полный глубокий хват, быстро.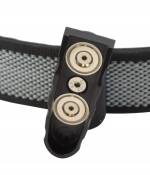 Michael Niedermeier
Date Added: Monday 08 August, 2016
Ich habe die CZ-Version gekauft und bin vollauf zufrieden! Das Magazin hat weder Spiel, noch macht es irgendwelche Annstalten vollgeladen herauszufallen. I bought the CZ-Version of this Product and it's perdect! The magazine has no space to budge and even loaded with 19 rounds sits firmly in the mag pouch.
DAA Bullets-Out Magnetic Pouch
Alpha Dynamics USA
2908 Betz Court, Orefield, PA 18069

Phone: (888) 628-3233 or (610) 366-9752
Fax: (610) 366-9680
E-mail: sales@doublealpha.biz