Prices shown in USD | All items shipped from PA, USA
DAA Aimpoint H1/Micro Sight Mount
DAA Aimpoint H1/Micro Sight Mount
Reviews:
(Current Reviews:

7

)
The Aimpoint Micro Sight is a fantastic new scope, but few good pistol mounts are available for it – and none like this one! Designed according to Saul Kirsch's specifications, the DAA Aimpoint Micro Sight Mount will place your Aimpoint Micro Sight much lower down to the slide and get that large battery cap out of your way by rotating the sight 90 degrees to the left. It thereby places the battery compartment on top rather than off to the right. The mount attaches directly to the body of the sight without the use of the originally supplied dovetail mount, thus reducing bulk and obstruction of view.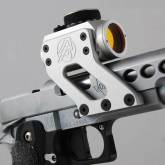 Jim Hagearty
Date Added: Friday 25 January, 2019
I am back, again, for the third or fourth time. Mounting an Aimpoint H-2 on a Caspian carbon steel frame. As always, the best product on the market!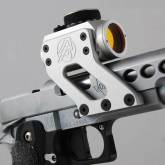 Steven Cano
Date Added: Friday 06 July, 2018
I purchased this item a few weeks ago and let me tell you...the installation was straightforward all the holes lined up perfect and with a small dab of Loctite on the screws and allowing cure time I was off to the range and got my H1 zeroed with no issues.If you want a bulletproof mount for your Gold Team look no further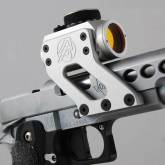 Paolo Ravizzini
Date Added: Tuesday 14 June, 2016
The mount is perfect, fit on my Tanfoglio very well and is very light. DAA service always OK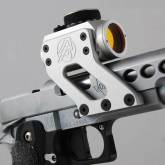 Markus
Date Added: Sunday 26 August, 2012
Sehr schöne Montage und absolut stabil, nur leider sind die Bohrungen für die Köpfe der mitgelieferten Schrauben zu klein und mussten daher etwas aufgebohrt werden. Ansonsten ist die Montage klasse, da das Mikro H1 damit sehr dicht über den Schlitten kommt! Die Schrauben sollten unbedingt mit Loctite gesichert werden!!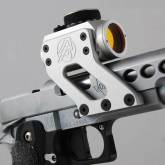 Jim Hagearty • USA
Date Added: Friday 17 June, 2011
Please add to my review . . . . mounted on a Caspian 1911 Titanium frame.
DAA Aimpoint H1/Micro Sight Mount
Alpha Dynamics USA
2908 Betz Court, Orefield, PA 18069

Phone: (888) 628-3233 or (610) 366-9752
Fax: (610) 366-9680
E-mail: sales@doublealpha.biz