Prices shown in USD | All items shipped from PA, USA
Combo: Racer pouch with Alpha Rail
Combo: Racer pouch with Alpha Rail
Reviews:
(Current Reviews:

30

)
This bundle cosists of:
1x Racer Pouch (complete with Racer hanger)
1x Alpha Rail System
The two items are packed separately. Assembly by customer.
The Alpha Rail System is a pouch mounting option allowing you to quickly click various types of pouches on and off your shooting belt. Ideal for 3-Gunners and shooters who wish to use their rig for multiple applications.
The belt attachment of the Alpha Rail System incorporates the well-established DAA steel bracket system (two brackets on this mount), which lock snugly onto any 1.5" shooting belt and allow maximum contact between the inner and outer Velcro belts. The two dovetail rails on the face section interlock with the pouch attachment section, firmly locking together without wiggle or unwanted movement.
The pouch attachment section has a flexible latch which allows you to easily unlock the separate sections and slide the assembly apart, replacing a pistol magazine pouch for an AR-15 pouch or a shotshell holder in a matter of seconds.
These pouch attachments include a serrated disk surface that allows the pouches to be attached securely and adjusted for angle as needed.
The Alpha Rail System is designed for use with all Double-Alpha magazine pouches and shotgun ammo holders. It can also be used with many other types of pouches and gear. The Alpha Rail System is the standard mounting option on the new DAA AR-15 Racer Pouch and the DAA 12GA Quad Loader.
Each Alpha Rail set includes:
1 belt attachment part, complete with 2 steel brackets
1 pouch attachment part
1 serrated adaptor spacer
1 central M5 mounting screw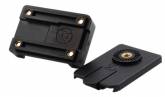 Alpha Rail System Belt Attachment
Frank
Date Added: Sunday 18 November, 2018
I use for replacement of a broken Racer attachment. Much more solid. Clip-on is efficient.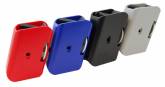 DAA Racer Magazine Pouch
Ronald Spijkers
Date Added: Saturday 10 November, 2018
Very nice magazine pouche. I use them for my cz 85 combat magazines and sit firmly in it, but they are easy to get out to reload your weapon.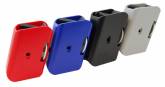 DAA Racer Magazine Pouch
Ocie Powell
Date Added: Saturday 27 October, 2018
As good of a mag. pouch as I've ever used. Beats my old Safariland pouches, hands down. Haven't had a mag fall out, yet.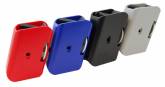 DAA Racer Magazine Pouch
ryon woodington
Date Added: Monday 15 October, 2018
Great mag pouches that offer versatility in mounting angles. I switched from different pouches and am glad I did. DAA makes quality gear!!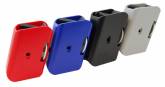 DAA Racer Magazine Pouch
Brian Edmunds
Date Added: Monday 08 October, 2018
These mag pouches are great. They are very versatile and can be adjusted in a bunch of ways. Great product! They worked flawlessly in my competitions.
Combo: Racer pouch with Alpha Rail
Alpha Dynamics USA
2908 Betz Court, Orefield, PA 18069

Phone: (888) 628-3233 or (610) 366-9752
Fax: (610) 366-9680
E-mail: sales@doublealpha.biz