Prices shown in USD | All items shipped from PA, USA
Combo: 6x Magnetic 8-Shot 9mm Moon Clip Holder and 10x Stainless Steel Moon Clip
Combo: 6x Magnetic 8-Shot 9mm Moon Clip Holder and 10x Stainless Steel Moon Clip
Reviews:
(Current Reviews:

6

)
DAA Magnetic 8-Shot 9mm Moon Clip Holder
Our popular magnetic Moon Clip Holder is now available for the 8 shot 9mm! These are suitable for the moon clips as used in the S&W 929, and can handle both 9mm and longer .38/.357 ammo.

The concept of holding the moon clip magnetically is not a new one, but we have taken it a couple of meaningful steps forward.
Our magnet is custom made, shaped specifically to fit between the rounds on a 8-shot 9mm moon clip, providing increased surface contact area with the steel of moon-clip, for increased grip. The vertical stem is also shaped, countered to match the bullets held in the moon-clip. This serves to index them, forcing them into the same position all the time – improving your consistency as you grab them to reload.

The vertical stem can be tilted to the sides, allowing you to position the moon clip at the angle best suiting your needs. The solid material structure ensures these holders are extremely durable and very unlikely to break, even if you are forced to go prone.
The DAA belt clip hanger, as used on our Racer pouches, provides two height positions, and a secure solid attachment to your 1.5" belt. The very slim steel plates on the back of the belt hanger are of extra value for the revolver shooter, as so many moon clip holders are use side by side. This slim designed ensures your inner and outer belt stay well stuck together.

*The moon clip holders are shipped with a 4mm thick magnet. The retention strength this magnet creates will depend on the type of moon clip you are using, and how magnetic it's steel is. We have found it strong enough for all moon clips we have tried.
Single Stainless 9mm Moon Clip
The Double Alpha 8-round 9mm Moon Clips are designed for the new and popular Smith & Wesson 929 9mm revolver.
These match-grade moon clips are comparable in quality and performance to the very best available, but at a more affordable price, achieved through volume and hi-tech production.
Our Moon Clips are laser cut from hardened 413 Stainless Steel achieving an unparalleled hardness of 44RC, making them extremely durable and resistant to bending and deforming.
We now offer these popular moon clips in two thickness options: 0.037" (0.92mm) or 0.040" (1.00mm).
Depending on the type of brass you are using, and the headspace you have in your revolver, one type or the other will offer you the best performance. It's important, of course, to achieve just the right amount of retention of your ammo in your moonclips to enable the best, most consistent reloads. Choose the type to best suite your ammo specifications.
The stainless steel used is magnetic, and the smaller-than-most cutout for the extractor ensures more overlap and optimum performance when used on magnetic moon clip holders, such as our DAA 8-shot moon-clip holders.
Please note:
Brass dimensions vary greatly between brands and in some cases even within certain brands.
We have found that our moon clips work with most brands. However, for most brass, loading and unloading tools are required.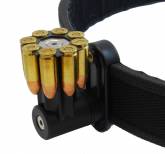 DAA Magnetic 8 shot 9mm Moon-Clip Holder
Richard Farmer
Date Added: Wednesday 01 August, 2018
Great product. Works well and nicely designed! Complements the 6 I already utilize.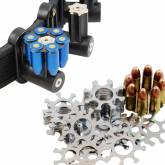 Combo: 6x Magnetic 8-Shot 9mm Moon Clip Holder and 10x Stainless Steel Moon Clip
Carlos Farto
Date Added: Friday 18 May, 2018
Same quality of the .45 revolver magnetic moon clip holder. Excelent product for revolver competitors. A must for 9 mm competition.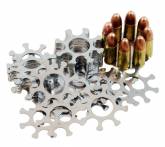 DAA Single Stainless 929 Moon Clips 0.037"/0.040"
Greg Petroski
Date Added: Monday 03 July, 2017
Many serious revolver shooters use only one brand of brass and select a moon clip that works best for that brand. That may be the best practice but I am not one to spend a lot of time sorting cases. These DAA moon clips are very rigid and so far have worked well with a variety of head stamps, pretty much whatever I pickup. My only minor complaint was that right out of the package some had very sharp edges, however they smoothed out after a few times being loaded. I guess the best endorsement is that I just placed a second order for them. They are gradually replacing all other brands I use. Excellent clips at a good prince.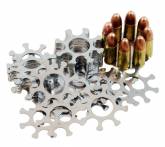 DAA Single Stainless 929 Moon Clips 0.037"/0.040"
stephen carey
Date Added: Saturday 18 March, 2017
Best 929 moon clip available and at a great price too.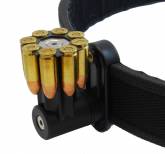 DAA Magnetic 8 shot 9mm Moon-Clip Holder
David
Date Added: Wednesday 14 September, 2016
perfect addition to what I already have. They work good. Top product.
Combo: 6x Magnetic 8-Shot 9mm Moon Clip Holder and 10x Stainless Steel Moon Clip
Alpha Dynamics USA
2908 Betz Court, Orefield, PA 18069

Phone: (888) 628-3233 or (610) 366-9752
Fax: (610) 366-9680
E-mail: sales@doublealpha.biz