Prices shown in USD | All items shipped from PA, USA
Combo: 7x Single Stack Racer Pouch
Combo: 7x Single Stack Racer Pouch
Reviews:
(Current Reviews:

10

)
Enjoy over 5% off of these fantastic Single Stack Racer pouches.

Please note!
These single stack pouches will work only with 1911 style Single stack magazines which follow the standard external dimensions! (roughly 13.7mm 0.54" wide, and 34.8mm 1.37" from back to front)
It has come to our attention that some manufacturers are shortening the front to back length of their tubes for the 9mm calibers – and these will not work in our single stack pouches!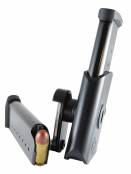 DAA Single Stack Racer Pouch
Mjoy
Date Added: Friday 18 May, 2018
This pouch is amazing! It doesn't take too much space in my belt-- which also mean that I don't need to reach all the way to my back to get my last magazine. It's lightweight and it's very stable. I can run freely without worrying about my mags falling off.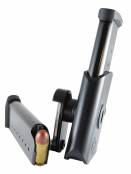 DAA Single Stack Racer Pouch
Greg
Date Added: Wednesday 17 May, 2017
Great product. I have 7 on my belt that takes up less space than 4 parallel pouches. Very well made, very quick.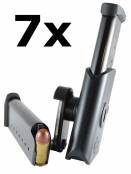 Combo: 7x Single Stack Racer Pouch
Peter Wanderoy
Date Added: Friday 13 May, 2016
I shoot IPSC in Classic division and this is what I was missing on my rig! All mags in one row with one magnet on the outside of the first pouch. Quality is good and they are easy to attach to the belt. /Peter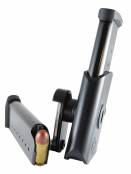 DAA Single Stack Racer Pouch
Emiliano
Date Added: Wednesday 09 March, 2016
The Single Stack Racer Pouch work's perfect and keep your magazine in tight place on your belt. I'm buying more soon.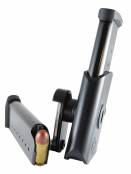 DAA Single Stack Racer Pouch
Butch
Date Added: Thursday 28 January, 2016
these magazine pouch are made perfect. USPSA and IDPA they work great
Combo: 7x Single Stack Racer Pouch
Alpha Dynamics USA
2908 Betz Court, Orefield, PA 18069

Phone: (888) 628-3233 or (610) 366-9752
Fax: (610) 366-9680
E-mail: sales@doublealpha.biz