Prices shown in USD | All items shipped from PA, USA
CED Brass Dryer
CED Brass Dryer
Reviews:
(Current Reviews:

8

)
The ideal mate for the CED Brass Tornado is the new CED Brass Dryer. A great way to speed the drying process to under ONE hour, allowing the user to wet rotary tumble brass to a brand new looking clean shine in under one hour, separate the solution and media in under five minutes, and dry the brass in under an hour. Completing the entire operation in the same amount of time (two hours or less) used to normally clean and polish brass in a vibratory tumbler, but with far superior results. Wet Tumbling produces the BEST results of any method of cleaning brass and the CED Brass Dryer produces the FASTEST and easiest drying results.

The CED Brass Dryer comes with five clear drying trays. Each tray can hold up to 150 pcs. of pistol brass (aprx. 80 pcs. of rifle), allowing up to 750 pieces of brass to be dried at one time. CED two year warranty!

Featuring:
- ON/OFF Power Selector w/LED Indicator
- Variable Heat Selection from 95'F to 155'F (35'C to 68'C)
- LED Digital Temperature Display
- Includes 5 clear Drying Trays
- 250 watts of drying power
- 110V or 220V Models available
Click here for user instructions for this and other products.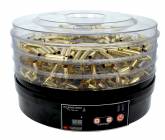 bauwens dirk
Date Added: Sunday 07 January, 2018
Best dryer for your brass , recommend to all shooters !!!!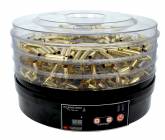 John Canaday
Date Added: Monday 29 May, 2017
I tried other ways to dry brass and cast bullets after quenching BUT nothing worked as well as your dryer. Cannot dry things any dryer than ambient humidity if open air drying. With your dryer I can completely dry stuff very quickly. Just to do it I have also used your dryer to make beef jerky! Your dryer and a jerky instruction book from MID-WAY or Cabellas is all it takes.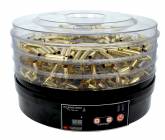 Christian Stahl
Date Added: Sunday 30 October, 2016
Bought mine together with the Tornado Tumbler. And they work great together. I dry about 1100 9mm cases at once. It's really a great product.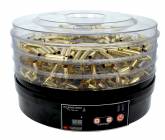 PLESSY
Date Added: Wednesday 06 April, 2016
C'est pas mal... Dommage qu'il n'y ai pas de minuterie ! A noter que le quadrillage des paniers est un peu trop espacées sur le périmètre extérieur ce qui fait que les étuis de 9mm ou diamètres inférieures passent à travers à cet endroit.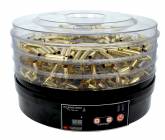 luca trevisanato
Date Added: Wednesday 09 December, 2015
prodotto molto valido staff altrettanto molto competenti e rapidi
CED Brass Dryer
Alpha Dynamics USA
2908 Betz Court, Orefield, PA 18069

Phone: (888) 628-3233 or (610) 366-9752
Fax: (610) 366-9680
E-mail: sales@doublealpha.biz
Also available in Combo(s)