BladeTech DOH Dropped & Offset Holster-SR Loop
BladeTech DOH Dropped & Offset Holster-SR Loop
Reviews:
(Current Reviews:

12

)
An excellent holster from BladeTech, perfect for the Production division of IPSC!

The "offset" feature of this holster allows for a greater degree of outward cant, which positions the grip of your pistol away from the body in a vertical position for more positive indexing. This popular holster also features a "drop", which lowers the placement of the pistol for an easier reach, allowing the arm to remain more extended.

The Drop & Offset holster is very popular for range and competition work and is perfect when speed is of utmost importance.

The loop is adjustable for three different cants, Straight Drop, FBI cant, Muzzle Forward. The holster is supplied with an Adjustable Belt loop: it comes with a shim for the different belt widths; this is accomplished by moving the shim to the different slots on the loop, and it will accommodate belts up to 2.5" in width.

The CZ model will fit the CZ 75, 85 and SP01 and Shadow.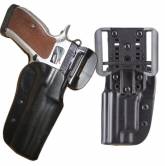 Richard Hulsebos
Date Added: Sunday 23 April, 2017
Very good holster for a CZ 75 SP 01 Shadow. Ajustible tighness very good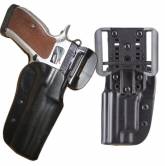 TOM ROBSON
Date Added: Saturday 19 March, 2016
OF COURSE THERE IS REALLY NOTHING TO SAY IN REGARDS TO ANY OF THE BLADE TECH PRODUCTS, IT WAS THE ARRIVAL TIME HERE TO ME IN ONTARIO CANADA THE SHIPPING AND PACKAGING WERE JUST FANTASTIC I COULD NOT BELEIVE I HAD THE HOLSTER THAT QUICK ( IN 5 DAYS ) WHAT A SERVICE YOU DEFINATELY GOT MY VOTES THANKS AGAIN DOUBLE- ALPHA. REGARDS TOM ROBSON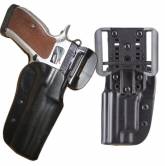 Cleland Rogers
Date Added: Saturday 28 March, 2015
I use this with my CZ SP01. I can't recommend it highly enough. Simple, strong and no moving parts to go wrong. It retains the gun securely enough to give confidence but releases quickly for a fast draw.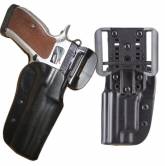 Raymie P
Date Added: Wednesday 11 December, 2013
Good holster holds my CZ 75 shadow nicely. This will work well for my practical target shooting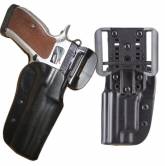 Petr Mestek
Date Added: Monday 11 November, 2013
Very good holster for CZ 75 SP 01 Shadow. For me 100 %
BladeTech DOH Dropped & Offset Holster-SR Loop
Double-Alpha Academy BV
Elzenweg 33b, 5144MB, Waalwijk
The Netherlands
Phone: +31 (0)416 660 464
Fax: +31 (0)416 392 040
E-mail: daa(at)doublealpha.biz