Arredondo Tanfoglio Spring & Teflon Follower Kit
Arredondo Tanfoglio Spring & Teflon Follower Kit
Reviews:
(Current Reviews:

3

)
An excellent upgrade kit from Arredondo for large frame Tanfoglio magazines in caliber 40 or 38s. This Teflon follower and spring kit greatly improve the reliability of your magazines, while at the same time increasing your capacity to 20 rounds in 38S and 17 rounds in .40.

Each kit includes one spring and one follower.
*These kits work extremely well in Caspian magazines as well.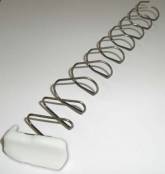 gustavo
Date Added: Monday 22 May, 2017
Excelente produto, cumpre bem a sua função.. Entrega rápida. Vendedores atenciosos.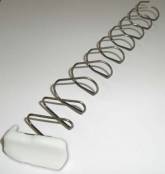 Hubert Holder
Date Added: Friday 27 November, 2009
Zuerts danke ich für das gute und schnelle Srevice durch DAA! Die Arredondo Magazin-Federn mit den Teflonzubringern sind hervorragend und ich kann sie nur weiter empfehlen. Allerdings müssen die Federn zum Einbau und zur guten Funktion für Standardmagazine (Standardlänge)etwas gekürzt werden.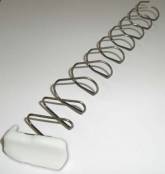 Stefano Putzolu
Date Added: Saturday 19 September, 2009
Ottimo prodotto! veramente conveniente comprare dal vostro negozio. Stefano ITALY Excellent product! really convenient to buy from your store. Stefano ITALY
Arredondo Tanfoglio Spring & Teflon Follower Kit
Double-Alpha Academy BV
Elzenweg 33b, 5144MB, Waalwijk
The Netherlands
Phone: +31 (0)416 660 464
Fax: +31 (0)416 392 040
E-mail: daa(at)doublealpha.biz