Prices shown in USD | All items shipped from PA, USA
Mr.BulletFeeder by DAA Powder Funnel - Dillon
Mr.BulletFeeder by DAA Powder Funnel - Dillon
Reviews:
(Current Reviews:

18

)
Your Mr.Bulletfeeder® is supplied with a newly designed and improved powder funnel for Dillon. The powder funnel is a very important component of a bullet feeder of any kind, as it prepares the brass correctly so that the bullet can be seated in the case, and not tip over as you index the shell plate. To achieve this, we have redesigned the powder funnel to allow for just the right amount of expansion, without over flaring or stressing your brass.

Please note: One powder funnel in the caliber of your choice is already included with your Mr.Bulletfeeder by Double-Alpha (Hornady powder funnels are also available here). These, so you do not need to buy an additional one, unless you want to use it on a second powder dropper.

The expanding powder funnel supplied is for the Dillon reloading machines only. Not compatible with other brands. To use with the LnL press, you will need to purchase their expanding powder funnel separately.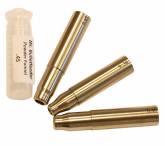 Tommie
Date Added: Sunday 18 November, 2018
I like everything about the Dillon dies except for the powder thru die. The .40 and .45 just add too much flair or don't add enough. The 2 step DAA is perfect. The casing has a step for bullet to sit squarely in the mouth and it gives a perfect amount of expansion and NO flare. A must have for 9mm, 40 and 45. I now just need the 9mm and I am good to go. These are perfect for the bullet to stay in the case with auto feed and indexing.A must have!!!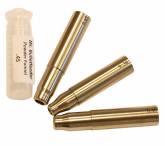 LH Blair
Date Added: Friday 18 May, 2018
Ordered the Double Alpha .40 caliber powder funnel for my .40 S&W cast lead bullets and am tickled with the fact that after rim expansion when my cast bullets drop from my Hornady Bullet Feed Die they drop perfectly straight and seat deep within the case mouth. If an occasional leaning bullet on the case mouth occurs it is not due to the funnel flare but to due the bullet feeder release while dropping the bullet. Couldn't be happier. LHB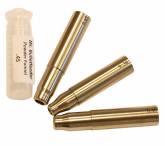 Blove12
Date Added: Sunday 13 May, 2018
I bought this to expand for cast bullets. Works great! Use it for 9mm and 357 and couldn't be happier.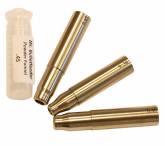 Arcebac
Date Added: Wednesday 07 February, 2018
Excelent product. Thanks DoubleAlpha for your speed order send!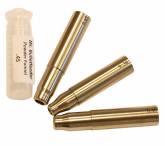 Syd Horn
Date Added: Wednesday 03 January, 2018
It works better than the Dillon but it did not go deep enough for my use. Sometimes the bullet falls off Right before it bells the case the funnel is enlarged. But the enlarged portion was not deep enough. I will put it in a lathe and extend the .358 portion of the expander another 5 or 10,000ths.
Mr.BulletFeeder by DAA Powder Funnel - Dillon
Alpha Dynamics USA
2908 Betz Court, Orefield, PA 18069

Phone: (888) 628-3233 or (610) 366-9752
Fax: (610) 366-9680
E-mail: sales@doublealpha.biz