Prices shown in USD | All items shipped from PA, USA
Combo: Sordin Supreme Pro-X and Sordin Gel Pads
Combo: Sordin Supreme Pro-X and Sordin Gel Pads
Reviews:
(Current Reviews:

44

)
Sordin Supreme Pro-X
The Sordin Supreme-Pro X takes the Supreme Pro line to the next level. This model of electronic ear defenders offers all the great features of the Supreme Pro model - AND 2 more special features:
1. It is totally water proof, not just water resistant like the Supreme Pro. In the Pro-X model even the microphones themselves are water proof. You could go swimming with these! (Don't!...)
2. The Pro-X comes backed with a Manufacture's 5 year full warranty (the supreme pro has one year full warranty).

The Supreme Pro is the top-level model available from world leader MSA-SORDIN. It features include:
Provides optimum protection with high amplification, AUX input and watertight battery compartment.
Both earmuffs are shaped to suit both right-handed and left-handed shooters (for comfortable rifle mounting).
Two separate, well-shielded microphones for optimum stereo effect and location of sound direction. (water proof mics in Pro-X model)
Rugged "military spec" construction: One piece molded cups, steel pins connecting the head band, glass fiber reinforced polymer head band and water proof one-piece switch rubber control panel.
High amplification and natural sound reproduction without chopping.
Around 600 hours battery life with two standard AAA batteries.
Power saving auto shut-off feature after 4 hours of no button input.
AUX input for connecting external audio sources, such as an MP3 payer, hunting radios or dog tracker.
Lead with 3.5 mm mono jack plug included.
A comfortable, luxurious leather lining covers the head band.

Weight: 310 g
SNR = 25 dB
Sordin Gel Pads
The replacement Silicon Gel Kits, include 2 Silicon ear Pads and 2 new insulation cushions. It is important to replace the cushions from time to time, to ensure good hygiene and best sound performance. This upgrade kit gives you extra cushions, in addition to the main item - the new silicon Gel Pads.

You need to try these to best appreciate them. The silicon in the pads is in a gel state, not liquid, so even if punctured it will not leak. The Silicon molds itself around the contour of your head, offering even more comfort and better sound protection that the normal sponge based ear pads.


The Silicon Gel pads really shine when you use the ear protection with shooting glasses, as we usually do. They mold themselves around the arms of the glasses, improving sound protection and preventing pressure of the glasses against your head.

The Sordin Silicon Gel Ear pads can be used with all the Sordin models offered here - the Supreme Pro, Pro-X and Pro+3. The original pads are easily replaced, and can be kept as spares for future use. No modification is needed to the ear defenders when using this silicon gel upgrade kit.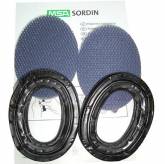 Sordin Silicon Gel Replacement Ear Pads
Nils
Date Added: Monday 25 June, 2018
Big improvement over the foam pads the Sordins came with. Softer, better seal, molds around eyepro much better.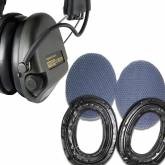 Combo: Sordin Supreme Pro-X and Sordin Gel Pads
Robert Abrams
Date Added: Tuesday 29 May, 2018
Have used these several times and I am favorably impressed. Very comfortable wearing glasses with the gel pads. The sounds are so natural in quality and volume that I sometimes forget that I have them on. Great for range time. I can hear commands but the gun fire is suppressed instantly and very tolerable. Best sound suppressing muffs that I've used.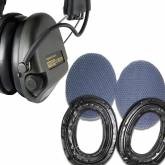 Combo: Sordin Supreme Pro-X and Sordin Gel Pads
Samuel Lopresti
Date Added: Wednesday 20 September, 2017
Just received my Sordin Supreme Pro-x ear muffs. This is the second pair that I have had the first ones lasted nearly eight years and are sill fine just the plastic cover on the leads is starting to wear and come off so I decided to get another pair. They have to be one of the best earmuffs that I have ever purchased they are very comfortable with great volume control and batteries included which in my other pair I changed the batteries once in that time. (well worth the money). Many thanks Double Alpha for selling a great product. Regards Sam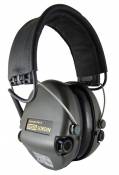 Sordin Supreme-Pro X
Alexey Solovyov
Date Added: Wednesday 23 August, 2017
Очень удобные, хорошее качество звука, качественно сделаны, защита от дождя. Наушники не из дешевых, но они того стоят.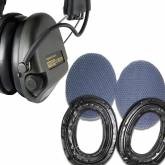 Combo: Sordin Supreme Pro-X and Sordin Gel Pads
Richard Wright
Date Added: Friday 11 August, 2017
I agree...I have a shelf full of plugs and muffs...some of whom cost twice as much as the Sordin......I just completed a complex Argentina shooting experience of _15 shoots...intensive testing with high volume of 20 GA ammunition...coulc not be more pleased...the cost of hearing aids is in the thousands (I know) if they can be avoided or lesser strength modles needed; it should be done
Combo: Sordin Supreme Pro-X and Sordin Gel Pads
Alpha Dynamics USA
2908 Betz Court, Orefield, PA 18069

Phone: (888) 628-3233 or (610) 366-9752
Fax: (610) 366-9680
E-mail: sales@doublealpha.biz