Prices shown in USD | All items shipped from PA, USA
Combo: 5x Alpha Rail System
Combo: 5x Alpha Rail System
Reviews:
(Current Reviews:

3

)
This is a 10% off for 5x Alpha Rail System
The Alpha Rail System is a pouch mounting option allowing you to quickly click various types of pouches on and off your shooting belt. Ideal for 3-Gunners and shooters who wish to use their rig for multiple applications.
The belt attachment of the Alpha Rail System incorporates the well-established DAA steel bracket system (two brackets on this mount), which lock snugly onto any 1.5" shooting belt and allow maximum contact between the inner and outer Velcro belts. The two dovetail rails on the face section interlock with the pouch attachment section, firmly locking together without wiggle or unwanted movement.
The pouch attachment section has a flexible latch which allows you to easily unlock the separate sections and slide the assembly apart, replacing a pistol magazine pouch for an AR-15 pouch or a shotshell holder in a matter of seconds.
These pouch attachments include a serrated disk surface that allows the pouches to be attached securely and adjusted for angle as needed.
The Alpha Rail System is designed for use with all Double-Alpha magazine pouches and shotgun ammo holders. It can also be used with many other types of pouches and gear. The Alpha Rail System is the standard mounting option on the new DAA AR-15 Racer Pouch and the DAA 12GA Quad Loader.
Each Alpha Rail set includes:
1 belt attachment part, complete with 2 steel brackets
1 pouch attachment part
1 serrated adaptor spacer
1 central M5 mounting screw
Please note!
1. When assembling these Alpha Rail belt attachments (and all our other belt attachments too) to your belt, do not use excessive force to tighten the screws. It is not necessary, and it is possible to apply so much force by tightening the screw on a thick belt, to the point that the plastic part can break. Hand tighten only, and use common sense!
2. When using the Alpha Rail, be sure to use the M5 screw supplied with it, and not the original screw from your pouches, which will most likely be too long.
3. If used with an Aluminum Race Master pouch, the Serrated Adaptor Spacer will not fit the pouch body. You can assemble without it, or use a rubber washer to enhace the lock up between the pouch body and hanger.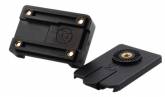 Alpha Rail System Belt Attachment
Frank
Date Added: Sunday 18 November, 2018
I use for replacement of a broken Racer attachment. Much more solid. Clip-on is efficient.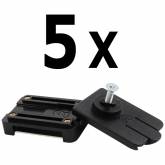 Combo: 5x Alpha Rail System
Kyle Marsh
Date Added: Tuesday 03 May, 2016
These just came out and I am new to 3 Gun. They are secure, I love the angle adjustment. Easy to remove. A little tricky to connect the 2 units, I occasionally miss one side and it gets bound up. I have never tried any other Rail type system, so I have nothing to compare.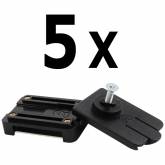 Combo: 5x Alpha Rail System
Steve Hartung
Date Added: Tuesday 26 April, 2016
After purchasing the DAA belt, Holster and race magazine combo and loving it! DAA came out with the Alpha rail system which has been an excellent product as expected. The Alpha Rail allows me remove, add to, and/or modify my rig quickly and easily. During my last club match I was asked where I got my rig and did I like it? My reply was "I love it!" and I purchased it directly from Double Alpha Academy.. I passed along your website info.. You have gained a loyal customer in me and of course I will continue to recommend you guys.. Great products that work very well.
Combo: 5x Alpha Rail System
Alpha Dynamics USA
2908 Betz Court, Orefield, PA 18069

Phone: (888) 628-3233 or (610) 366-9752
Fax: (610) 366-9680
E-mail: sales@doublealpha.biz