Prices shown in USD | All items shipped from PA, USA
4-Pack DAA Aluminum Standard Base Pads
4-Pack DAA Aluminum Standard Base Pads
Reviews:
(Current Reviews:

13

)
These base pads are designed for 2011 magazines to fit into the IPSC Standard Division measuring box.
They will, most certainly, be too long for the 140mm USPSA gauge when attached on 140mm STI tubes.
Save €5.00 when you order the 4-Pack of base pads. You can mix and match colors as you like. The new DAA Aluminum Standard Base Pads are the result of a full year's research. We studied all the base pads on the market; spoke to many top shooters; investigated which bases they preferred and why; and finally combined our own ideas with the best features of available base pads.
The DAA Aluminum Standard Base Pads are made of top quality aluminum, precision-machined to the tightest tolerances and hard anodized for extra strength and striking good looks. They fit snugly onto STI/SV/Para/Bul tubes, allowing just a little bit of that required "wiggle". Spring tension is enough to keep the pad in place; however, a self-locking set-screw has been added for extra insurance.
The pad is hollowed out, leaving just the absolute minimum thickness to ensure strength and durability. Radiuses have been added to improve inner strength, and side walls have been thickened to further strengthen the grooves where the base attaches to the tube. In fact – these bases are so strong, we are offering a "No Nonsense" 5 year warranty!
Available in Black, Silver (with metallic blue tint), Blue, and Red.

Custom name and number engraving! Personalize your magazines by engraving your name on the DAA base pad. And/or order the bases numbered, so you can easily identify each magazine. €10.00 extra per piece. If you choose to add engraving, simply add a comment on your order, or email us with the name and/or numbering you want on the base pads. Name should not be longer than 8 characters! Allow a few extra days for delivery.
SV Shooters, please note: The Standard magwell provided by SV is very narrow on the inside, and you will have to slightly modify either our base pads or the magwell to allow them to lock up in the gun. You will have to remove a little material for the top edges of the base pads, or widen the magwell.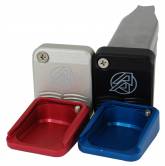 4-Pack DAA Aluminum Standard Base Pads
Franz Carter
Date Added: Tuesday 05 July, 2016
These base pads are wonderfully made and fit very well to my SPS mags. Unfortunately with my STI Apeiro .40 they do not fit the IPSC box as advertised meaning I just wasted a lot of money on great base pads I can't use.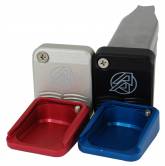 4-Pack DAA Aluminum Standard Base Pads
BBF
Date Added: Tuesday 19 May, 2015
The base pads are nice but the screws are junk. It is too long and too soft. A small grub screw would be better-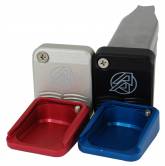 DAA Aluminum Standard Base Pads
MARCO FERRONI
Date Added: Wednesday 04 December, 2013
products such as the description are perfect great seller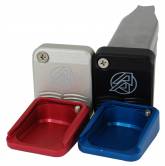 4-Pack DAA Aluminum Standard Base Pads
Stephan
Date Added: Friday 16 August, 2013
Sehr gute Verarbeitung und Passgenauigkeit. Ein Highlight für jedes Magazin.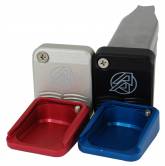 4-Pack DAA Aluminum Standard Base Pads
Mikael D
Date Added: Tuesday 11 June, 2013
Do not work in the standard IPSC box with a SPS Pantera .40 :( Heard an other guy with the same issure with the 9mm Pantera. Otherwise i love them. DAA Reply - you must check the height of your rear sights. Some very high seated sights are simply too high to fit in the box with these base pads.
4-Pack DAA Aluminum Standard Base Pads
Alpha Dynamics USA
2908 Betz Court, Orefield, PA 18069

Phone: (888) 628-3233 or (610) 366-9752
Fax: (610) 366-9680
E-mail: sales@doublealpha.biz