WORLD SHOOT XIV, 2-disc DVD
WORLD SHOOT XIV, 2-disc DVD
Reviews:
(Current Reviews:

1

)
The pinnacle of IPSC shooting is the triennial World Shoot - the ultimate testing-ground for champions.

In August 2005 the world's best shooters gathered in Guayaquil, Ecuador for World Shoot XIV. This exclusive Double-Alpha Academy production brings you the entire action-packed event.

Follow the competitors in the Open, Standard, Production, Modified, and Revolver divisions. Enjoy the expert commentary by world-class shooter, Saul Kirsch, as he takes you step by step through the 36 stages of the match. See the scores, learn the winners' names, and hear interviews with some of the top shooters. Join in the Opening and Closing ceremonies, and take your front-row seat at the top-8 Shoot-Off in all divisions.

Multiple camera angles give you an unparalleled view of the shooting, and our spectacular new hat-cam brings you images never before seen by spectators. Join Saul behind his racegun for a real-time fullspeed view of the action.

Over 3 hours of IPSC action on a 2-disc DVD.
Sample clips to download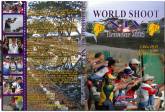 Yael Dagan
Date Added: Thursday 14 January, 2010
For me this is always a DVD to go back to and learn from. A lot of action, all categories, and even the Ladies squad made it in this time. Really gives a good view of everything, and helps learn from the best of the best.
WORLD SHOOT XIV, 2-disc DVD
Double-Alpha Academy BV
Elzenweg 33b, 5144MB, Waalwijk
The Netherlands
Phone: +31 (0)416 660 464
Fax: +31 (0)416 392 040
E-mail: daa(at)doublealpha.biz