SUPPORT SYSTEM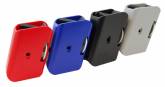 DAA Racer Magazine Pouch
Mounting
Q: I just bought 5 of the DAA Racer Magazine Pouches from The Shooters Connection. When I tried to mount them for bullets out, the mounting screw interferes with the tensioner screw. Do you have a different screw I can buy that will solve the interference problem. I know I've seen this mentioned on the Brian Enos forum. Some have filed down the mounting screw head but I would prefer to just mount a screw that was made not to interfere.
Yes, this is a...
Racer Pouch Spacers
Q: Do you have to disassemble the pouch to swap out rear pressure spacers?
A: No. Simple turn the tension wheel until there is no more pressure on spacer. Then using your thumbs, push down o n both ends of the rear presser spacer and push upward. This will release the rear pressure spacer and leaf spring, swap our the spacers and set the leaf spring in the spacer, then push the spacer back into the pouch until you hear a click. The chamfered or angled end of the...