Contact Us
Prices shown in USD | All items shipped from PA, USA
Race Master Holster (Magnetic)
Reviews:
(Current Reviews:

66

)
US Patent No. 8720754.
All Race Master Holsters now ship in the Magnetic version only.

Since its introduction in 2010, the Race Master Holster has established itself as one of the leading holsters on the competition circuit. It is the choice of many of the current champions in our sport, who choose it over other holsters for its unique features and outstanding performance.

The Race Master holster's hanger and body are made completely from machined aluminum, providing a solid and rigid platform, which locks up securely in the chosen position and keeps your pistol secure and stable. The vertical rod and ball joint create an endless range of adjustment possibilities, allowing each shooter to set the holster to best suite his body type, draw style and preference. With the Race Master holster you don't need to adjust your draw to the holster, it adjusts to you!

Unlike other holsters, the Race Master is designed to give you access to almost all the adjustment screws while you are wearing it on your belt. Without removing your belt, you can adjust the height of the gun and the distance from your body, and even unlock the ball-socket hinge and adjust any angle of the holster. This is a huge advantage in setting up your holster just right.

Pistol Retention
Thanks to the patented magnetic locking mechanism, the Race Master Holster offers you a secure lock/unlock safety lever as well as a responsive "click feeling" when the gun is seated. The magnetic slide lock assures the locking tooth is lifted all the way to the top of its range, allowing for easy reholstering.
The spring-loaded lock/unlock safety lever is conveniently positioned just below the trigger guard, enabling you to release the lock with an upward flick of your finger as you close your hand around the gun. The spring-loaded lever immediately snaps into place, either locked or unlocked, ensuring secure positioning.

Advanced Belt Attachment
The Race Master belt-hanger is sleek and modern, showing off the pattern and color of your shooting belt. But it is designed for more than looks alone.
The hanger is attached to the belt by means of two spring-steel flat clasps that are screw-tightened on the inside of the shooting belt. This design prevents any separation between the inner and outer belts, ensuring that the Velcro layers firmly hold together at this crucial point. The range of tightening provided by the four screws guarantees that you can tighten and lock the holster rock steady on any 1.5 inch shooting belt. This design allows you to assemble your holster on your belt at the designated position without struggling to slide a tight-fitting belt-hanger the length of your belt. The lack of any bulk on the inner side makes this hanger more comfortable for extended wear than any other comparable product.

Gun Compatibility
While the Race Master Holster is gun-specific, it is designed to enable you to switch from one gun to another without having to buy a complete new holster. All you have to do is change the relatively inexpensive locking-block assembly, available separately. This flexibility is also a great advantage for resellers - they no longer need to stock a range of different models, as they can simply change the locking-block assembly as needed.
NOTE: If you are ordering a holster or an insert block for a CZ TS checkmate, be advised the 2017 frame has changed. Click here for more details.
CRITICAL SAFETY WARNING
Read the following instructions carefully before using this holster or Insert Block:
Never holster a loaded firearm without first engaging its safety.
Check periodically to ensure your safety is functioning correctly.
Never disengage the safety of the firearm until well clear of the holster and the muzzle is pointing down range.
Make sure you are fully familiar with the correct use, and adjustment of your DAA Holster before attempting to use it with a loaded firearm.
Make sure that you have the correct holster/Insert model for your type of firearm.
Do not use a holster that is unsuited to your firearm, as that could result in unreliable retention or release which could lead to a fatal accident.
Never use a trigger shoe or a widened trigger with this holster.
Double check that the retention and release work well, particularly if any modifications have been made to your firearm.
Care must be taken to ensure the gun is placed properly when returned to the holster. It if it is not positioned correctly, it will not be held securely and may fall out.
Never holster the gun quickly or with force, as that increases the chance of making contact with the trigger.
Any adjustment or modification to the holster design may render it unsafe or cause malfunction.
Take care that the firearm is not dislodged or knocked when holstered, particularly when the holster's safety lever is unlocked. As this holster has no muzzle support, take care that the muzzle of the gun is not bumped upwards, as this may dislodge the gun from the holster
Keep your fingers well clear of the trigger when holstering and drawing the firearm.
The holster should be locked when running or jumping with a holstered gun, or you should keep your hand on the gun's grip to prevent it accidentally falling.
Handling a loaded firearm, and drawing it from a holster is inherently dangerous. You do so entirely at your own risk and responsibility.
Liability is limited only to the replacement of this holster or parts thereof. No additional warranties are expressed or implied by the manufacturer or the distributors.


You can now order your holster with a personalized logo and/or name. Click Here to read more

Glock customers - read this before using your holster!

Zubehor Magazine - Review. Click here to download.>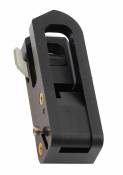 Race Master / Alpha-X Insert Block Assembly (Magnetic)
Matt
Date Added: Saturday 28 March, 2015
This is such a great option to the RaceMaster holster. I started out with a Para 1911, then went to a STI Edge as my main competition gun. I also on occasion shoot a glock and I use that as my backup gun in case something should happen in a competition. The Insert Blocks are easy to put in your range bag and have on hand if you should need to switch guns. Easy to swap out of your rig without having to carry a different rig all together. Great idea and work very well.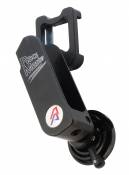 Race Master Holster without insert
DMI
Date Added: Monday 16 February, 2015
great quality. the insert block can be changed in two minutes.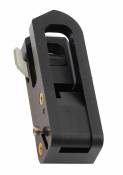 Race Master / Alpha-X Insert Block Assembly (Magnetic)
Jerry van der Kloor
Date Added: Wednesday 03 September, 2014
I had already a racemaster holster in black for my SVI with different pouches.I sold the RMH and pouches and I changed all for a blue RMH with 4 racemaster pouches also in blue metal, a new belt from DAA and bought also a new insert for my Para Ordnance. Saul himself updated both inserts and making them magnetic so I'm very pleased with my complete set. Thanks DAA for a great purchase. I'm glad a decided to change from Amadini to DAA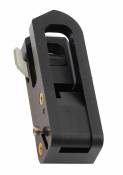 Race Master / Alpha-X Insert Block Assembly (Magnetic)
Rich C
Date Added: Thursday 15 May, 2014
I've got three of these now, the interchangable system is genius and a god send for us British pistol shooters who have to borrow or hire guns when we travel to matches. I'd recommend a bit of fettling to get the best fit to your own gun but generally they've worked fine straight out of the box.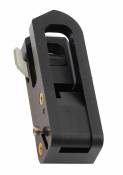 Race Master / Alpha-X Insert Block Assembly (Magnetic)
Patrick
Date Added: Friday 25 April, 2014
I bought a holster for my Glock. Now I bought the inserts for the Tanfoglio and changed the inserts for the Mag Pouches. this holster save my money
Race Master Holster (Magnetic)
Alpha Dynamics USA
2908 Betz Court, Orefield, PA 18069

Phone: (888) 628-3233 or (610) 366-9752
Fax: (610) 366-9680
E-mail: sales(at)doublealpha.biz