Master Class I
Master Class I
Reviews:
(Current Reviews:

4

)
In Master Class 1, you join Saul Kirsch as he coaches a group of eight shooters in Årjäng, Sweden. This DVD was filmed during the actual full day of coaching.

Saul covers many of the most important basic technical skills required to excel in the sport of Practical Shooting. Topics covered include accuracy in pistol shooting, recoil control, the "high-ready" position and gun presentations, drawing from the holster, specialty draws and turns, reloading, and the first steps to shooting while exiting a position. In addition, Saul explains the basics of IPSC scoring and understanding the hit factor and point system.

Each topic is presented clearly with detailed explanations by Saul, and then followed by some dry-fire and live fire drills. You can even strap on your rig and dry-fire along with the class, if you like, but make sure your gun and magazines are unloaded! Edited into the explanations are some brief scenes of top shooters in action at the 2007 USPSA Open and L10 Nationals.

Running time: 180 Minutes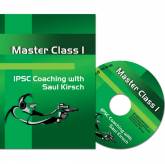 Alessandro Rosa
Date Added: Friday 01 December, 2017
Guys..go for it with no hesitation! Great value dvd with good quality images and a very good instructor. What you read on the product description is exactly what you get on the dvd. I've bought also no.2 and that is great too!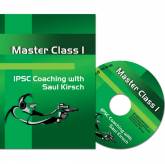 Christian van der Kruijf
Date Added: Thursday 24 March, 2016
Absolutely great product! Realistic and valuable training. For any level of shooter. Good quality DVD with good and clear audio.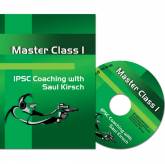 Neil Gift
Date Added: Monday 30 March, 2015
These videos are easy to follow and great to dry fire practice along with the class. Saul is really great at breaking down the techniques. My wife has advanced quite steadily by watching these videos. I would definitely recommend these videos to any level of shooter.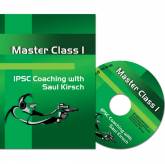 Malcolm DOWDING
Date Added: Thursday 07 January, 2010
ALL After 20 years of Practical Pistol shooting I had wanted to find a source of training to help me sharpen up my own shooting and help those who shoot in the Practical section I run at our club. I was told of the DAA Master class series and having bought them , found them to be the ideal method for new and experienced shooters to get to grip with the basics . The training is 'real' with a 'class' being taken so one can see actual participation of different level shooters and how they are individually helped if needed The perfect training items for all . Malcolm
Master Class I
Double-Alpha Academy BV
Elzenweg 33b, 5144MB, Waalwijk
The Netherlands
Phone: +31 (0)416 660 464
Fax: +31 (0)416 392 040
E-mail: daa(at)doublealpha.biz
Also available in Combo(s)