Contact Us
Prices shown in USD | All items shipped from PA, USA
Target Tracker - iPhone/iPod Application
Reviews:
(Current Reviews:

3

)
The ISSF Trainer is a unique new app for your iphone/ipod which provides you with a power training aid for your ISSF Olympic shooting training and match session. The application utilizes the touch screen features of the iPhone, allowing you to record the position of each shot as it is fired during your practice session or match. It also keeps track of the time elapsed between shots, and help you analyze this time to show what speed of shooting produces your best results. You can select from several shooting disciplines, including 10m Air Rifle, 10m Air Pistol, 50m Rifle and Standard pistol 25 and 50m, and 300m Rifle. Each discipline records the shots on the correct target design and shot size.

You can review your practice on the device, replaying the shots one by one, or showing them in groups of 5,10,20 or all, and you can easily export by email, which includes lists as well as graphic pictures of the shots fired.

The applications allows you to insert notes and comments mid session, and even change the color of the shot after a note or equipment change.

Sessions recorded include information about the date, location, conditions and equipment notes and can be modified as you go.

For more information, visit Sport-Shooting.Com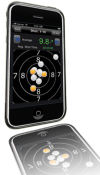 Dave
Date Added: Tuesday 09 April, 2013
I like this, but would like to see a couple of things fixed. 1. Change the 3p format so we get there sets of sighting and scoring targets 2. Allow for the new 20 shot finals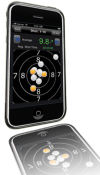 Freccia
Date Added: Wednesday 21 November, 2012
Ho visto da un amico la Vostra App e devo dire che è bella, funzionale e molto utile! Purtroppo non ho un I-Pad ma un Tablet Samsung con sistema Android e Vi chiedo: esiste una versione per il mio Tablet? In attesa di una cortese risposta, vi porgo oltre ai complimenti i miei più cordiali saluti Freccia. freccia@tiscalinet.it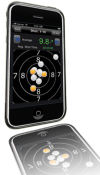 Tricia Van Nus (AUS)
Date Added: Wednesday 06 April, 2011
Excellent application for coaches.Enables simple notation of training / competition by the coach. This is a very effective tool to indicate groupings.
Target Tracker - iPhone/iPod Application
Alpha Dynamics USA
2908 Betz Court, Orefield, PA 18069

Phone: (888) 628-3233 or (610) 366-9752
Fax: (610) 366-9680
E-mail: sales(at)doublealpha.biz