Double-Alpha Competition Belt
Double-Alpha Competition Belt
Reviews:
(Current Reviews:

53

)
Click on the video link above next to the product image to learn about belt sizing

Double-Alpha Academy is proud to present the new Double-Alpha Competition belt. This new Inner & Outer shooting belt offers the best features for serious competition shooters.

The inner belt is designed streamlined and slim-profiled to prevent it from adding too much thickness under the outer belt. This helps to ensure you wear your gear close to your body in the most comfortable way. The inner belt is pointed at one end to facilitate easy threading through pant loops. Of course the inner belt carries the soft Velcro layer to prevent it from snagging on clothing or car seats when worn separately.

The outer belt is simply the strongest and stiffest belt on the market today, bar none!

It is constructed of a tough web nylon outer, covering a fiber reinforced polymer core which gives the belt its impressive rigidity.

We designed the belt to be slightly thicker than most others, so that the holsters and pouches mounted on the belt will sit firmly in place and will not rock or slide around. This makes it slightly harder to thread some makes of holsters and pouches, but all types of gear will fit.

The Double-Alpha Competition Belt is available in Black, Blue or Red, with the color boldly displayed in the wide middle section of the belt, not the trims.

Other features include:
• Top quality material and workmanship.
• Industrial strength Velcro of the highest standard.
• Both inner and outer belt have their size clearly tagged.
• Competition width 1.5", to fit with all shooting gear used.
• Sizes available from 32" – 50"
• Smaller sizes (32"-34") have an 18cm (7") overlap section, while larger belts (36" and up) have a 24cm (9.5") overlap section. This is to ensure the smaller size users have enough space on their belts for all their magazines pouches.
• An attractive and functional safety loop is included with every belt, carrying an embroidered "AA" logo.

How to select the correct belt size: (do not select based on your pant size!)
1. Measure you actual waist circumference at the height where you plan to wear your belt.
2. Convert your measurements into Inches (1inch = 2.54cm)
3. Order the belt size which matches your measurement. Round upwards: if you measured 39", order a belt size 40".

Size chart:
| | | |
| --- | --- | --- |
| belt size to order (inch) | overall length (cm) | overall length (inch) |
| 32" | 100cm | 39.4" |
| 34" | 105cm | 41.3" |
| 36" | 116cm | 45.7" |
| 38" | 121cm | 47.6" |
| 40" | 126cm | 49.6" |
| 42" | 131cm | 51.6" |
| 44" | 136cm | 53.5" |
| 46" | 141cm | 55.5" |
| 48" | 146cm | 57.5" |
| 50" | 151cm | 59.5" |
| 60" | 176.5cm | 69.5" |

For example:
If you measure around your waist 86cm/33.85", you should choose a belt which is about 104-110cm/41"-43.3" Overall length, which would mean a DAA belt size 34". If you measure around your waist 98cm, you should choose a belt which is about 115-123cm/45.25"-48.5" Overall length, which would mean a DAA belt size 36 or 38" (38" would be the safer bet, a little long is always better than a little short).

DAA Competition Belt Vs. DAA Pro Belt
We currently offer two Double-Alpha belts, and I would like here to point out the differences between then, and give you the information you need to choose the DAA belt which best suites your need.

The DAA Competition Belt has been our IPSC belt since 2009. It has become hugely popular and appreciated by shooters around the world due to its extreme stiffness. This belt is VERY firm, which is, arguably, the most important feature of an IPSC belt. It is an excellent choice for those looking primary for performance.
However, some shooters, especially those with smaller waist circumferences may find it to be too stiff. Some have said they find it does not fold enough to follow the contour of their body as well as they would like. Additionally, in order to achieve this increased stiffness, we made this belt slightly thicker and slightly wider than most other manufacturers of inner/outer 1.5" belts. This means that fitting other manufacturer's gear, which may need to slide onto the belt, such as CR Speed, can be very difficult. It can be done, but it is a struggle. This is no concern if you plan to use DAA holsters and pouches, as they do not slide on, but are assembled in place.

The newer DAA PRO Belt is designed for improved finish and appearance. The webbing used and overall appearance is more luxurious. It includes a rubberized (not embroidered) safety loop logo, a DAA logo on the inside of the inner belt webbing, and the cool new feature of a name-card holder built into the outer belt. With this, should you forget your rig on the range, it can be returned to you.
The DAA PRO Belt is very slightly thinner and narrower than our Competition belt. It is more in line with the dimensions used by other 1.5" belt manufacturers, and so it is much easier to slide on gear from other manufacturers. And while it is still a rigid belt, it is not quite as rigid or stiff as our Competition belt. Some users will prefer this, for a more comfortable fit to their body. For comparison, it is probably just a hair more rigid than the CR Speed belt.

So in summary, those looking for the absolutely most rigid belt available, to make sure their mags and holster are rock solid as they run on the stage, and they plan to use the DAA holster and pouches (an excellent choice!) should look no further than the long-standing DAA Competition Belt. However those looking for a sleeker more luxurious looking belt, preferring perhaps a little more flex in the belt for a more comfortable fit, and/or planning to use gear from other manufacturers, may well find the DAA PRO Belt better suites to their needs.
· Note that both belts share the same sizing chart and lengths.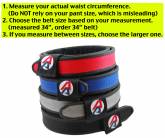 Eric
Date Added: Sunday 04 February, 2018
Great products I have a full rig I use to shoot limited 10. Now trying to build a rig for my M&P core ordered a complete competition belt the inner belt the stitching was coming apart had to return inner belt. It cost me about $10 to return I should have just purchased the premium belt.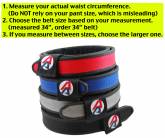 Torben Qvist
Date Added: Saturday 15 July, 2017
Howdy I am the proud owner of a couple of these belts. Both inner and outer belt work as intended by DAA. I find myself using the inner belt more places than just on the range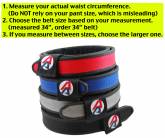 Stumpf JM
Date Added: Friday 12 May, 2017
Cet article correspond parfaitement à mon souhait. Ma commande m'a été livrée dans les délais (3jours). Impeccable. Je recommande DAA pour leur sérieux.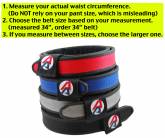 David garcia
Date Added: Sunday 21 August, 2016
I ordered the completion belt. I love it well made. I will another in the future. David Garvia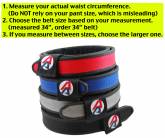 Michael Niedermeier
Date Added: Monday 08 August, 2016
Super Gürtel! Das Klettverschlusssystem funktioniert einwandfrei, die Magazintaschen und das Holster können sicher befestigt werden und sitzen starr in der gewünschten Position. Great belt! The velctro works really good, the mag-pouch and holster can be fixed securely to the belt and remain in the desired position.
Double-Alpha Competition Belt
Double-Alpha Academy BV
Elzenweg 33b, 5144MB, Waalwijk
The Netherlands
Phone: +31 (0)416 660 464
Fax: +31 (0)416 392 040
E-mail: daa(at)doublealpha.biz
Also available in Combo(s)