Combo: 650 Machine Bundle 2
Combo: 650 Machine Bundle 2
Reviews:
(Current Reviews:

36

)
Save over 50Euro with this great Dillon 650 reloading machine, 650 Cover, Dies in Caliber choice, Powder Check System, Low Powder Sensor and 650 Maintenance Kit & Spare parts.
Please note:
The XL650 machine shown here has accessories on it not delivered as standard!
View the product page of the XL650 before ordering this combo to see what is and what is not included.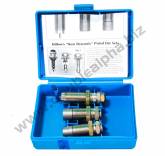 Dillon Carbide Pistol Die Set
ivan noel vogl
Date Added: Thursday 08 March, 2018
A big improvement on the older dies from Dillon. Very satisfied. Might replace the 45,40 and 357 sets too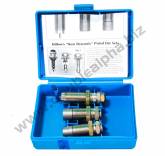 Dillon Carbide Pistol Die Set
Claus Jespersen
Date Added: Saturday 09 December, 2017
The Dillon die set works very well. I do find, however, that the factory crimp die from Lee is easier to adjust. I think this only applies to crimp dies for ACP-cartridges such as the 9 mm and not to crimp dies for revolver cartridges.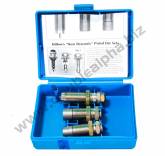 Dillon Carbide Pistol Die Set
Rodevaldo Guemra
Date Added: Thursday 23 November, 2017
Bom dia ! Gostaria de expressar o ótimo trabalho e atendimento que ADD tem feito , sem contar que os produtos são de primeira qualidade ! Mais o mais importante é o atendimento que a equipe ADD tem prestado muito bom mesmo !!!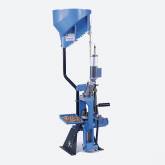 Dillon XL650 with case feeder
Paul VC
Date Added: Friday 06 October, 2017
bought this reloading machine as my first and probably also as my last one as it is so very good. I am loading .38 Super, .38Supercomp (you need another shell plate), .357Magnum and .45ACP. Perhaps an automatic bullet feeder should be a good option, however it makes a lot of noice (I witnessed this with a fellow shooter) and is quite expensive so I choose to buy the mini bulletfeeders from DAA for each caliber and it suits me well. Same for the automatic case feeder, to expensive and a loudly option, so I choose also to use the mini case feeders from DAA, however for .45ACP still not available, so...as soon they are I will buy one. Also while loading the case you have an extra check on the case. If you follow the instructions well of the included detailed manual, and you can get some practical information from colleague shooters, it is quite easy to assemble and start reloading with this 650. I use it now approx. 1 year and reload approx. 500 pcs every week (200 .38supercomp, 200 .357Magnum and 100 .45ACP). I also use the quick exchange kits, for each caliber one, so for each caliber all settings are kept and changing from one to another is quite simple. Also I use different powders and I don't have to empty and refill the reservoir each time. No mistakes with wrong fillings. One point that asks more work is when you change to .45ACP. You also have to change the primer assembly from small pistol primers to large pistol primers (I remember a time when there were .45ACP cases available with SP primers, however I couldn't find them any more). Until now, only one problem with the .357 Magnum mini case feeder which had a broken part (the base extend has broken off). However DAA immediately replaced it after I wanted to order a new one (even forgot to mention it could be warranty) for free as part of the warranty after they contacted me to ask why I needed this part as it was not normal to order it separately. Great supplier who thinks with me and not against me. Thanks for that. I am convinced that this is a very good reloading device for shooters who wants to reload weekly some hundreds of ammunition and also wants to change calibers every week. DILLON and DAA, TOP products.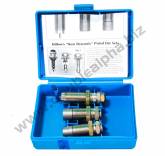 Dillon Carbide Pistol Die Set
Paul
Date Added: Tuesday 27 June, 2017
As usual good product. On time delivery. Easy to assemble.
Combo: 650 Machine Bundle 2
Double-Alpha Academy BV
Elzenweg 33b, 5144MB, Waalwijk
The Netherlands
Phone: +31 (0)416 660 464
Fax: +31 (0)416 392 040
E-mail: daa(at)doublealpha.biz