Prices shown in USD | All items shipped from PA, USA
Steel Challenge - iPhone/iPod Application
Steel Challenge - iPhone/iPod Application
Reviews:
(Current Reviews:

3

)
For a limited time only - HALF PRICE! Only €7.99 or $9.99.

OurSteel Challenge iPhone and iPod Touch application is available for purchase on the App store! Get your copy now for €15.99 or $19.99.

The application you have all been waiting for! The perfect hand-held scoring system for Steel Challenge matches and training sessions. Create a match in seconds, enable/disable stages as you wish and add shooters.

You can track your practice sessions with unlimited data storage and export results to your buddies by a touch of a button.

Have a local match going on? not a problem! Add as many shooters as you wish and keep track of all simultaneously.

Features:
- Virtually unlimited storage space (will last you for a life time of practice sessions and matches!
- Stage Enable/Disable
- Common Shooter Database - add shooters to your session by selecting them from the database
- Supports all SC Divisions
- Match Export
- Verify List
- Stage Results
- Overall Results by Division
- Shooter DQ
- Tilt device for more info on screen

Scoring never made simpler!

Download your copy today!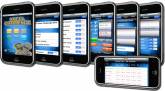 Joe L
Date Added: Wednesday 04 December, 2013
App works pretty well. Wish the number pad was larger when entering times. The divisions don't match up with Steel Challenge though. No Production. No Long Gun (carbine).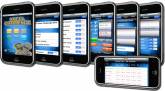 Brian
Date Added: Sunday 03 February, 2013
This is a great app. I am curious why you didn\'t put in the divisions to match steel challenge? Is this coming in a future update? Hope to see an answer posted soon. Thanks Brian DAA Reply - All the steel challenge divisions are listed on the app.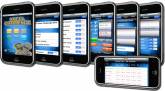 Prezents
Date Added: Sunday 06 May, 2012
Love this app, It makes scoring a match a breeze!!! shooters love that the their scores are e-mailed to them.
Steel Challenge - iPhone/iPod Application
Alpha Dynamics USA
2908 Betz Court, Orefield, PA 18069

Phone: (888) 628-3233 or (610) 366-9752
Fax: (610) 366-9680
E-mail: sales@doublealpha.biz