Prices shown in USD | All items shipped from PA, USA
Mr. Bulletfeeder by Double-Alpha - Rifle
Mr. Bulletfeeder by Double-Alpha - Rifle
Reviews:
(Current Reviews:

7

)
Mr. Bulletfeeder® by Double-Alpha

DAA has been the proud European distributor of Mr. Bulletfeeder® since 2006, and we have never had an unhappy customer! Anyone and everyone who invested in a Mr. Bulletfeeder® absolutely loves it. You wonder how you ever reloaded without one...

If you reload a lot, you quickly appreciate the efficiency and reliability of this ingenious patented system.

However, Mr. Bulletfeeder® has always been a little "rough" in appearance and finish. It was made from existing materials and parts, and as such never had the sleek look and feel of a refined "production" article. Also, since the bullet feeders have always been hand made, in moderate quantities, production costs have been high, and demand always exceeded availability.

Now, all this has changed! We are proud to introduce the new Mr. Bulletfeeder® by DAA. DAA and RAK Systems have teamed up and have retooled and redesigned the Mr. Bulletfeeder®, which is now manufactured by Double-Alpha Academy. The new system, manufactured under license by RAK Systems, is lighter in weight and more compact than the previous models. It is easier to install and set up, and has a more professional "production" look and feel.

An entirely new US Paten Pending dropper system allows the new model to function better and longer than before. The new dropper design eliminates the need for any spring or small plastic parts in the dropper head, and works entirely powered by gravity and an ingenious geometric design.

And to top it all off - we can now offer the new system at a far more affordable price.
If you have never tried a bullet feeder on your progressive reloader - what are you waiting for?! It cuts the time and effort involved in reloading practically in half! A must-have item for any serious shooter.

the expanding powder funnel supplied is for the Dillon reloading machines only. Not compatible with other brands. To use with the LnL press, you will need to purchase their expanding powder funnel separately.

The new Mr. Bulletfeeder® is available in 9/38, 40SW/10 mm, .45. Rifle calibers .223 and .308.
Note: No expanding powder funnel is included with this system, because throating the rifle brass in the powder funnel is not possible. That would lead to too small a powder through hole. Flaring the brass must be done as a prep stage or using a modified M-die on the 1050.
Click here for user instructions for this and other products.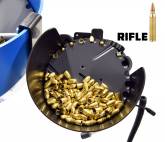 JOHN HELMS
Date Added: Saturday 20 October, 2018
Mr BulletFeeder is GREAT! I just recently added another Dillon 1050 to my bench, and I have Mr. BulletFeeder on my other pistol setups so I had already planned to do the same to the new loader. Really does a great job, and allows me to concentrate on other functions rather than place individual bullets. Therefore, I believe that while the bullet feeder is not a total necessity, it certainly helps me to make more consistent ammo with less issues during a reloading session. And, the MR BF certainly speeds up the operation by a sizeable margin. Nice work DAA and MR BF! Keep it up.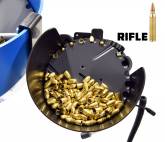 Greg Soileau
Date Added: Friday 14 September, 2018
I added the Mr. Bulletfeeder to my Super 1050 and it has made reloading fun. I reload 223 ammo and being someone with big fingers, trying to place the small bullets onto the case was very aggravating. The Mr. Bulletfeeeder has resolved that issue and reloading is now fun and very fast. Thank you for such an outstanding product! Greg Soileau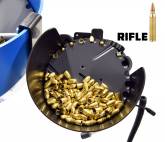 Jason Wright
Date Added: Wednesday 01 March, 2017
I purchased the 5.56mm on Dillon Precisions website, it's the best addition to speed since the addition of a case Feeder. The quality is far superior to to other Feeder systems on the market. I have a Hornady kit in 9mm and 45 ACP they are garbage compared to the MBF. I plan to add the Caliber Conversion Kits for 9mm and 45 as soon as possible. This system is money well spent.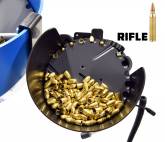 Andrew Keene
Date Added: Wednesday 04 January, 2017
I bought this for a Dillon 650 XL and it works just as advertised. I took my time and set it up prior to any immediate loading so that I didn't have any pressure on myself. Once I had it feeding appropriately and without hesitation, I went into production. What a great machine! No problems, smooth and very efficient. I sometimes dumped a few too many bullets in the hopper and it didn't even notice or slow. Just efficient and accurate. Thanks once again for an extremely well-engineered piece of equipment.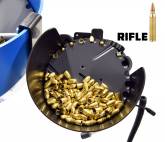 ivan
Date Added: Wednesday 08 July, 2015
Great product. Just take your time in the setup phase and these things keep the bullets coming without hassle. Love the feeder.
Mr. Bulletfeeder by Double-Alpha - Rifle
Alpha Dynamics USA
2908 Betz Court, Orefield, PA 18069

Phone: (888) 628-3233 or (610) 366-9752
Fax: (610) 366-9680
E-mail: sales@doublealpha.biz
Calibers
Q: Will Mr.Bulletfeeder support 300 Blackout?
Generally speaking, 300 BO works fine with the 30 cal setup. The 300 BO case is simply a 223 case necked up to 30 cal.
The only issue you may run into is if they want to load the really long and heavy projectiles for sub-sonic. That will
require them to set up the collator with the wire ramp to flip those big ones. Otherwise... should be good.
If the user has an old RL-1050 press though, he may...