Prices shown in USD | All items shipped from PA, USA
Mark 7 650 X Autodrive
Mark 7 650 X Autodrive
Reviews:
(Current Reviews:

1

)
Features
Includes the Mark 7 Optical Decapping Sensor - a $200 value !
Two user selectable speeds 900 to 1,200 rounds per hour
Includes 9" pre-loaded computer tablet - no control boxes!
Includes Upgraded 9" tablet holder
Completely compatible with Mr. Bulletfeeder and GSI bulletfeeders
Broad caliber capacity - able to load a wider array of calibers including larger rifle calibers
Small footprint
Digital clutch - adjustable on-the-fly from 0 to 20
Digital primer depth setting - no more guessing !
Digital jog and immediate stop
Microprocessor monitored and controlled
Features monitored by computer
Downloadable software upgrades for life
Supports a variety of accessories
User-configurable Dwell time at the top of the stroke
Easy Installation
Pre-assembled and shipped ready to use
CNC grade planetary gearbox
Full warranty
Fully Supports International Voltage - this unit operates at 110/220v and at 50/60 Hz with no appreciable variation in speed or performance (Please select voltage at Check Out)

Dimensions and Capacity
Overall machine dimensions are 49" tall (124.4 cm) X 14" (35.5cm) wide x 12" (30.5cm) deep
True operational height: earlier machines 52.5", later machines 48.5"
Quite operation approximately at 75-80 dB including case and bullet feeder

650 Autodrive Specifics
CNC billet heavy-duty crank
High torque output
Mounted on heavy-duty baseplate
In-line direct-drive operation helps ensure equal amounts of pressure applied to the 650 ram/operation
Does not include the Dillon Precision XL650 reloading press
Completely compatible with the leading bullet feeders on the market
* Dillon Press and Mr.bulletfeeder not included.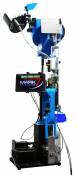 Robert Lipe
Date Added: Friday 19 January, 2018
The Mark 7 650 X Autodrive system is simply the best combination of computer control over the motor drive system. The tablet interface allows me to completely control and flexibility over every aspect of the entire stroke of the Dillon 650 to deliver better control of the reloading operation than by hand without fatigue or forget. For high volume consumer loading, production or just to avoid repetitive motion ailments, the Mark 7 is awesome and a great time/labor saving investment for anyone reloading a significant volume of ammunition.
Mark 7 650 X Autodrive
Alpha Dynamics USA
2908 Betz Court, Orefield, PA 18069

Phone: (888) 628-3233 or (610) 366-9752
Fax: (610) 366-9680
E-mail: sales@doublealpha.biz
Also available in Combo(s)