BladeTech Speed Rig Holster
BladeTech Speed Rig Holster
Reviews:
(Current Reviews:

3

)
The BladeTech Speed Rig is a race-styled holster designed for intense use in Practical Shooting competitions. The cant and the dropped offset positioning of the holster aid in lighting quick draws. The Speed Rig includes BladeTech's highly recognized level of retention. The holster comes with two adjustment screws that allow you to control the tension to fit your specific needs during competition.

Features include:
• Dropped and Offset for quick attainment of a shooting grip
• Speed Cut on holster for swift draws
• Tension adjustable retention
• Designed for Practical Shooting competitions
• Made in the U.S.A.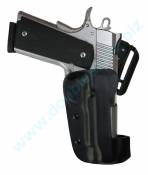 Eliud Colon
Date Added: Friday 27 March, 2015
I bought this holster because i wanted to use it in IPSC with a CZ. The one mayor problem I had and did not like was the fact that the cz is heavy and the holster tends to be pushed further from the body. What I mean to say is that the bracket connecting the holster to the belt flexes so much that - at rest - the pistols grip area moves further from the body. the muzzle ends up pointing at my leg and that always made me feel uncomfortable. That Bracket needs an increase on the angle or decrease in order for the pistol to rest parallel with the body.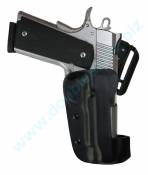 Genesio José Tolotti
Date Added: Sunday 11 December, 2011
Bom dia; Favor informar se esse coldre (holster BladeTech Speed Rig Holster) existe em modelo para arma tipo 1911 - Sprig_Field cano 5", ou é só para Glock e CZ. O atirador é destro, usa a arma do lado direito. Att; Tolotti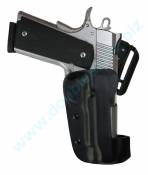 Rudy
Date Added: Tuesday 12 July, 2011
questa fondina è realizzata molto bene ma è utilizzabile solo con i modelli 34 e 35 della Glock, pertanto in Italia solo nella categoria Standard.
BladeTech Speed Rig Holster
Double-Alpha Academy BV
Elzenweg 33b, 5144MB, Waalwijk
The Netherlands
Phone: +31 (0)416 660 464
Fax: +31 (0)416 392 040
E-mail: daa(at)doublealpha.biz