Description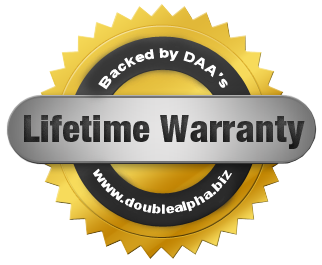 Race Master Holster- the best IPSC Competition Holster money could buy!
Starting May 2013, the DAA Race Master Holsters will ship with a new and improved hanger.
Building on our combined experience from the Racer and Race Master lines, as well as range testing and customer feedback, we are pleased to now offer this modified and improved hanger.
The new 2013 Race Master Hanger combines the best features from the original Race Master hanger and the newer Racer Hanger. It retains the wide aluminum belt bracket, and features a modified attachment point which allows a wider range of tilt. An enbedded serated washer between belt-hanger and vertical rod ensure secure lock up. The round 10mm vertical rod allows the holster a wider range of rotation as well as about 16mm (2/3") of additional downward range. The round ball-joint housing design eliminates fitting issues, and provides a secure lockup for the ball-joint, while at the same time providing a larger tilt range.
The Ball Joint pin now locks into the holster body by means of a larger M8 screw, which eliminates the need for the small wedge used there before.
And added to the hanger design, is the self adjusting thigh pad, designed to mould itself to your leg, providing all-day comfort.
The best just got better!

Realizing a Dream! Designed by Saul Kirsch, and with valuable input from Angus Hobdell, more than 30 years of top-level competition experience contributed to its design. After nearly two years in development, we can say with confidence that this is indeed the next stage in competition holster evolution. Try one, and we are sure you will agree!

We set out to develop a new holster with the following goals in mind:
• To offer the best and most advanced release system on the market
• To offer a wide range of position adjustments – and to hold those settings rock solid
• To offer both a fully locked safety feature and tension adjustment capabilities
• To allow the user to change from one gun type to another without having to buy a complete new holster
• To look sharper and cooler than any other race holster out there

We are pleased to say that the final product offers all these features and more.

Looking the Part!
The Race Master Holster is as attractive as it is functional. No expense was spared in the design and construction of this state-of-the-art product. The entire holster is CNC machined from aircraft-grade aluminum and stainless steel and hard anodized to offer a long-lasting surface finish in Black, Blue, Red, or Silver.

Patent-Pending Locking Mechanism
At the very heart of the new Race Master Holster is a brandnew innovative patent-pending locking system that offers a smooth clean release of the pistol and a solid grip on the gun when holstered.

Unlike other models which rely on a muzzle support to hold the gun steady, or short holsters which allow the gun to rock when holstered, the new Race Master holds the gun so steady, you cannot tell the pistol from the holster! And yet it draws upwards as smoothly as can be with almost no resistance at all.

The phenomenal locking is achieved by means of a unique sliding block, formed precisely around the front end of the trigger guard. This fitting is the reason for the gun's incredible stability in the holster. As the gun is drawn, the block, which resides in an angled track, slides out to the side, smoothly releasing the trigger guard and allowing the gun to be drawn with only 6-8 mm (1/4") of upward motion required to clear the holster.

Unlimited Adjustability
One of the most important features of a competition holster is adjustability. Being able to position the gun just right can make the difference between a lightning-fast consistent draw or a poor failed attempt.

The Race Master Holster offers almost unlimited adjustability. And, thanks to its rugged aluminum construction and large-thread screws, when you lock the holster in your chosen position, it stays put!

Unlike other holsters, the Race Master is designed to give you access to almost all the adjustment screws while you are wearing it on your belt. Without removing your belt, you can adjust the height of the gun and the distance from your body, and even unlock the ball-socket hinge and adjust any angle of the holster. This is a huge advantage in setting up your holster just right.



Pistol Retention
Thanks to the patent-pending locking mechanism, the Race Master Holster offers you a secure lock/unlock safety lever as well as a tension adjustment turn-knob. The spring-loaded lock/unlock safety lever is conveniently positioned just below the trigger guard, enabling you to release the lock with an upward flick of your finger as you close your hand around the gun. The spring-loaded lever immediately snaps into place, either locked or unlocked, ensuring secure positioning. The large stainless steel knob rotates several turns, increasing or decreasing the weight of the draw. This gives you a wide range of possibilities, from totally resistant-free for those fast "draw-facing targets" stages to almost completely locked when you want more resistance on the draw.

Advanced Belt Attachment
The Race Master belt-hanger is sleek and modern, showing off the pattern and color of your shooting belt. But it is designed for more than looks alone. The hanger is attached to the belt by means of two spring-steel flat clasps that are screw-tightened on the inside of the shooting belt. This design prevents any separation between the inner and outer belts, ensuring that the Velcro layers firmly hold together at this crucial point. The range of tightening provided by the four screws guarantees that you can tighten and lock the holster rock steady on any 1.5" shooting belt. This design allows you to assemble your holster on your belt at the designated position without struggling to slide a tight-fitting belt-hanger the length of your belt. The lack of any bulk on the inner side makes this hanger more comfortable for extended wear than any other comparable product.

Gun Compatibility While the Race Master Holster is gun-specific, it is designed to enable you to switch from one gun to another without having to buy a complete new holster. All you have to do is change the relatively inexpensive locking-block assembly, available separately. This flexibility is also a great advantage for resellers - they no longer need to stock a range of different models, as they can simply change the locking-block assembly as needed.

You can now order your holster with a personalized logo and/or name. Click Here to read more…





Glock customers - read this before using your holster!

Zubehor Magazine - Review. Click here to download.>
Customer Reviews
Steven
Date Added: Friday 31 January, 2014
Without question, the best holster I have ever used. I've gone thru several holster designs in the last 13 years of shooting USPSA, and then Saul came up with this design. BRAVO! What I like most about the holster is the adjustability and the secure feeling I have with the pistol not falling out of the holster. Here is a tip: Once you have your Race Master Holster set up, use some loctite on the set screws and you'll be all set!
Dean
Date Added: Monday 27 January, 2014
Excellent customer service. Received my holster and had a few minor fit issues. Saul and the team sent my out a replacement immediately which worked perfectly. Very impressed with product and service; would recommend to all shooters.
MARCO
Date Added: Wednesday 04 December, 2013
products such as the description are perfect great seller
Stephan
Date Added: Friday 16 August, 2013
1A Qualität. Alleine die Verarbeitung und die Verstellbarkeit des Holsters überzeugen.
Anderson
Date Added: Thursday 11 July, 2013
Excellent product, great quality and easy handling. Shop highly reliable, delivered my products here in Brazil without any problem. Sellers very attentive. I recommend.
Chris Skewes - New Zealand
Date Added: Friday 14 June, 2013
Purchased a Race Master over the internet last month and received it in the post. Very happy with it thanks.
Sergey Dukhanin
Date Added: Tuesday 16 April, 2013
Thank DAA. Very convenient lightweight. Do exercises with him easily. SP-01 Shadow fits very well and comfortably. Nothing should be customized. Would recommend.
Gail
Date Added: Wednesday 03 April, 2013
This is my first holster like this and I love it. Very easy to,use. My Tanfoglio is very secure in it.
Related Products
Ask about this item
Race Master Holster
Double-Alpha Academy BV
Elzenweg 33b, 5144MB, Waalwijk
The Netherlands
Phone: +31 (0)416 660 464
Fax: +31 (0)416 392 040
E-mail: daa(at)doublealpha.biz
Also available in Combo(s)
You may also be interested in: